PROJECT OBJECTIVES AND STRATEGY
The students will know about a healthy lifestyle and will represent it abroad, will enhance their knowledge and skills in using information technologies, will be stimulated for having enthusiasm and life-long skills for writing, the project will encourage children's entrepreneurship/development of their leadership skills, develop children as active European citizens, contribute to local and wider communities.
***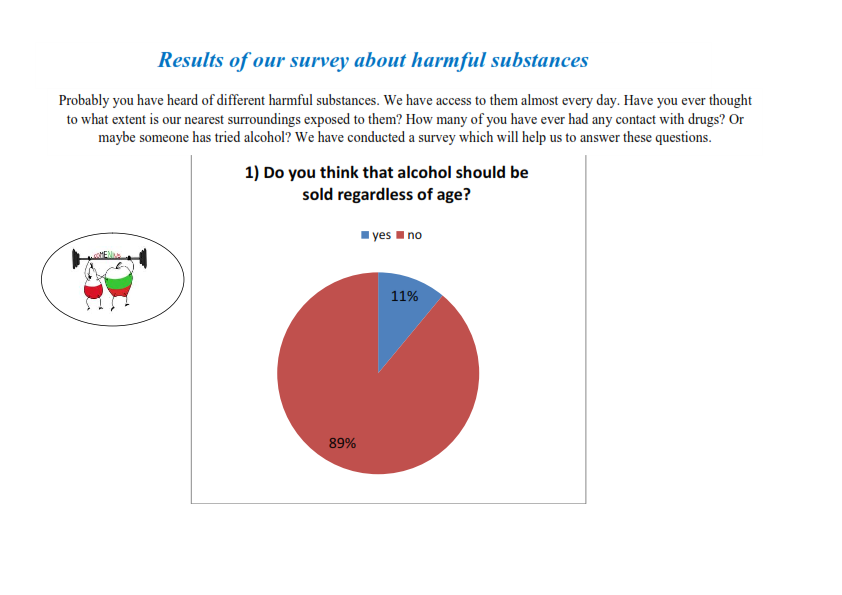 Results of our survey about harmful substances>>>
Probably you have heard of different harmful substances. We have access to them almost every day. Have you ever thought to what extent is our nearest surroundings exposed to them? How many of you have ever had any contact with drugs? Or maybe someone has tried alcohol? We have conducted a survey which will help us to answer these questions.
***
An open lesson on the topic "Movement'", connected with our bilateral Comenius project was carried out by L. Vassileva – the head of the school club"Health".The students watched a presentation about specialized system of movement- the musculoskeletal system of humans and participated actively in its discussion. A competition was conducted between three teams from the club with some tasks – join the halves, the magic of numbers, the fifth is redundant and solve the cryptogram.
The students became convinced that the health of musculoskeletal system is a prerequisite not only for good health but also for self-esteem, confidence, initiative and an bility to deal with problems. A prerequisite for a healthy musculoskeletal system is a healthy lifestyle – daily regime, proper nutrition, physical activity and sport.
See also presentation >>>Movement.ppt
---
A lesson was held on the theme "Energy at the base of life," connected with the project "Healthy Lifestyle."
The lesson included a presentation and a competition between teams with specific tasks.
The physical law of energy saving and nutrients needed for metabolism in the human body, minerals and vitamins were viewed in the presentation. A competition was conducted after the presentation. The students were divided into teams and worked on the specified tasks. They discussed the benefits of taking carbohydrates, fats and proteins and also the necessity of separate micronutrients and diseases that arise from lack of vitamins C, E, D and iron..
The conclusions about proper and healthy eating were derived.
Health is a priceless treasure, our food must be healthy in order to give us the energy we need for a full life, ie energy is the basis of life.
Energy in the base of life.ppt>>>