From 1st July to 8th July 2014 we took part in the  festival "The world in children's hands" in Balchik for the 4th time! Oh, we did have an awesome time there! We participated in Drama Arts, Vocal Skills and Recitation a

nd Recitation

 Competitions in all age categories. We are proud to announce that we won 1st place in Recitation in 3rd age category (Maria Kimanova), 2nd place in Recitation in first and second age category (Mila Karageorgieva and Miglena Bogdanova) and 2nd pace in Drama art in all age categories. In Vocal Skills Mila Karageorgieva, Iva Kimanova, Antonia Plachkova and Katya Krivcheva got consolation awards.

On 15 March students from 5, 6 and 7 grade took part in  2 nd International Competition in English Language "HIPPO"The competition is open to students 10 – 19 years old from schools in Italy, Bosnia and Herzegovina, Bulgaria, Croatia, Georgia, Macedonia, Montenegro, Serbia and Slovenia. We hope we did well!

Our School Spelling Bee was held on March 13 , 2014. There were spellers from grade 4,5,6 and 7. After 10 intense rounds, Tomas Madzharski (grade 6) won and Valentin Telbiiski (grade 4)was the runner-up. Mrs. Milena Lesova was the pronouncer for the bee and Mrs. Monika Kosova and Mrs. Veselina Gadzheva  were the judges of the contest. Mrs. Gadzheva  awarded the winner and runner-up with prizes for their excellent spelling ability. Good luck, boys!
Project activities teach us through teaching others about the beauties of diversity and allow us to recognize the needs of the others and their own. In all parts of the process of creating our textbook students are involved. They are also the first users. We focus specifically on situations which are part of our everyday life and groups we belong to such as family and school.
We are an ACES school again!
In 2013-2014 we will work on the project "YOU COMPLETE ME". Our partners are ZŠ a MŠ Ostrava-Zábřeh, Czech Republic and Ekonomska skola, Sibenik, Croatia
Pupils will identify problems caused by diversities and look for ways how to make the best of it. Schools will organize a topical day to get students acquainted with the project. Students will work together on "diversity textbook" which will inform about this topic through presentations, videos etc, worksheets and activities for pupils. In all parts of the project students will be involved. We will organize project meetings in Sibenik, Ostrava and Rakovski.
A GROUP OF ENTHUSIASTIC STUDENTS FROM OUR SCHOOL WILL TAKE PART IN Bulgarian National English Spelling Bee 2013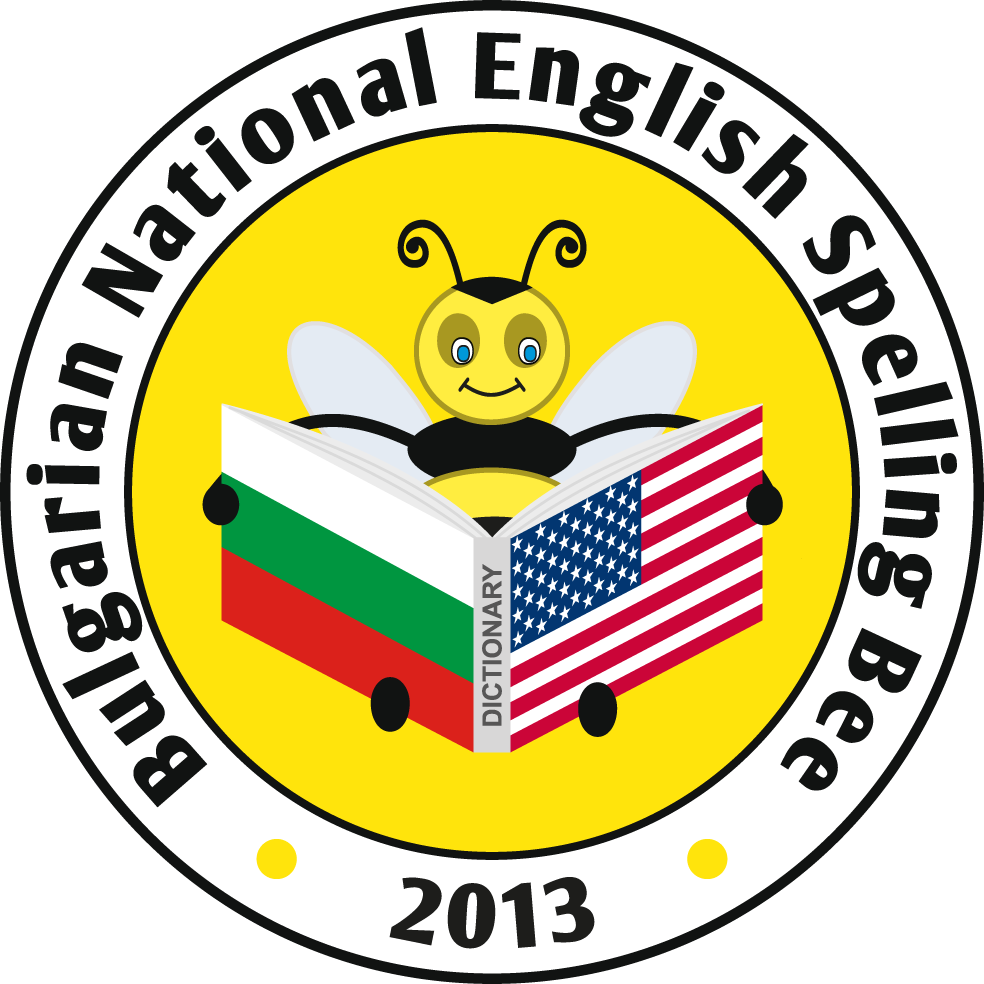 From 7 July 19, 2012 to 12 July 19, 2012 we were in Bachik (AGAIN). We were very happy to take part in the festival "The world in children's hands" in Balchik, where we had the chance to perform on international scene our latest production – "The wizard of Oz".  The days there flew so fast, because everything was perfect – the organization, the warm and caring attitude of the director Svetlana Atanasova, the opportunities for contacts with people, who value teaching English through drama as much as we do. We found so many new friends and hated the moment, when we had to leave for Rakovski .We didn't leave with empty hands – we won SECOND place in the category "Dramatic Arts".
WHAT A SUCCESS!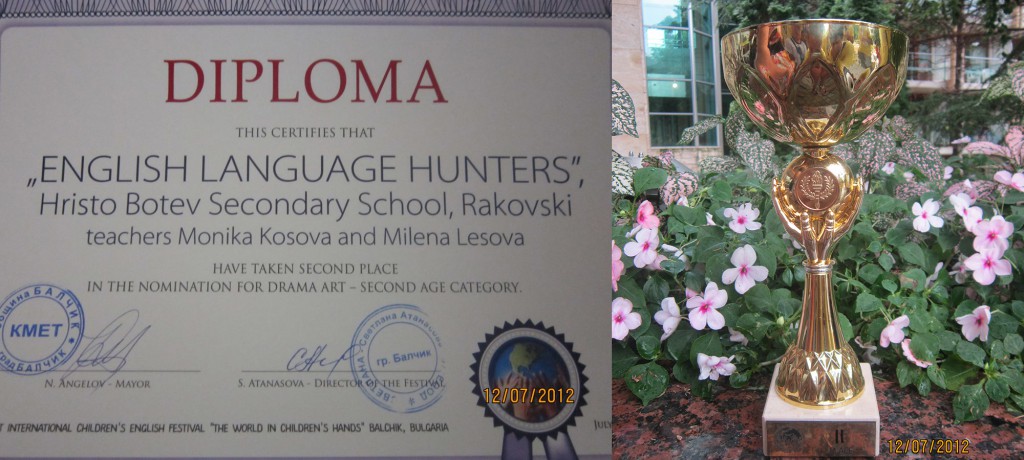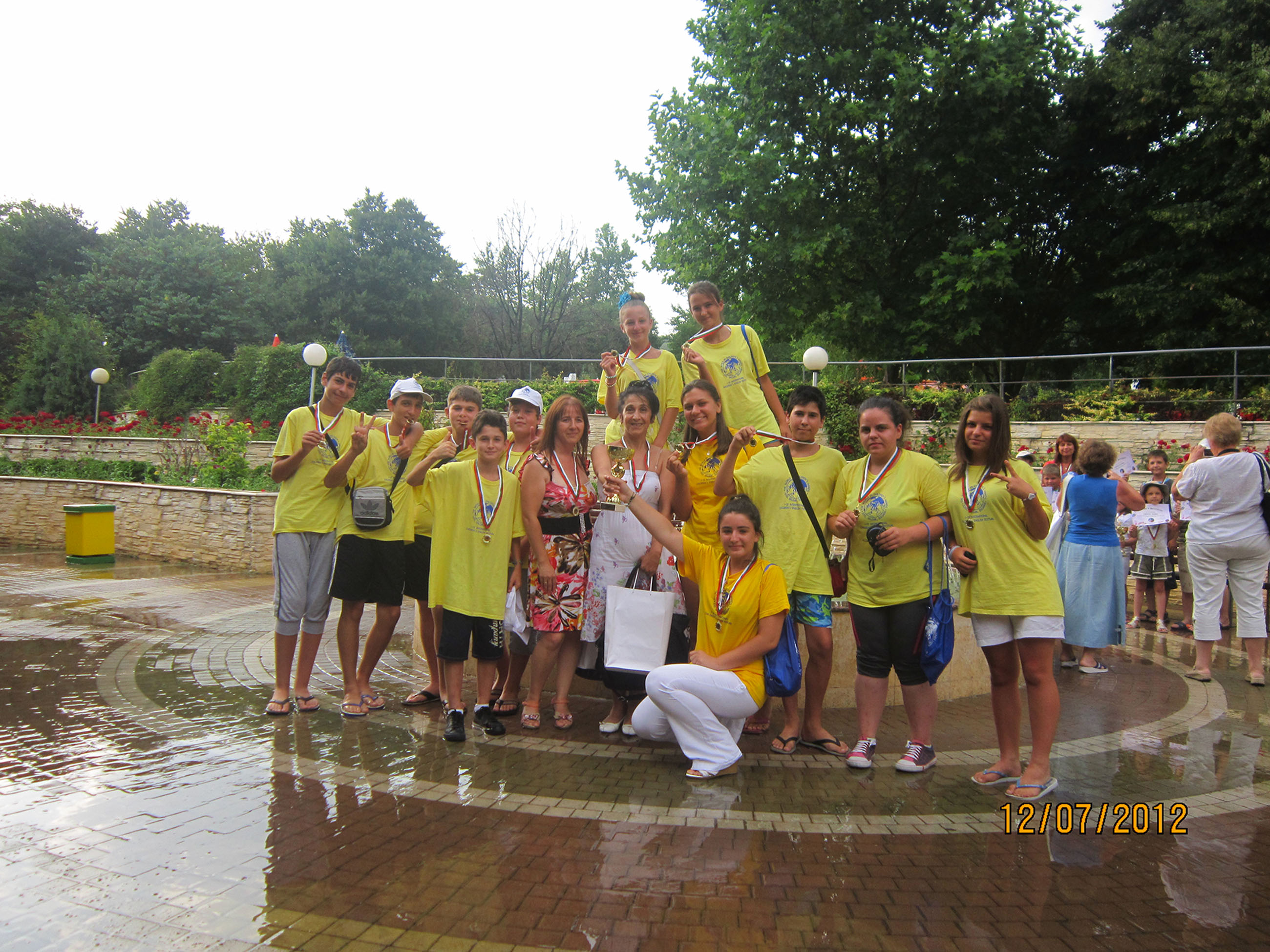 LISTEN TO THE ANTHEM OF THE FESTIVAL HERE